When it comes to woodwinds, the reed is one of the most important pieces of gear: when the player blows into the mouthpiece, it makes the reed vibrate, creating the sound.
There are many brands of reeds out there, of varying strength. Some are preferred for classical music while others will make it easier for musicians to play jazz, or other styles. Ultimately, it comes down to the artist's personal preference when choosing a reed, and their choice might depend on multiple factors, including the reed's strength and the material used to manufacture it.
In this article, we will check out which reeds some of our artists use most often, and tell you a bit about the brands that manufacture them!
Fiberreed
These reeds are synthetic, meaning they are not made of cane; a composite material is used to produce them, called Hollow Fiber Foamresin Compound. They were invented by Harry Hartmann in order to make more durable reeds, which can be used over extended periods of time and are not as fragile as ones made of cane. The first Fiberreed was manufactured in 1993, and Hartmann has been improving it ever since. The reeds are made of different materials, woven into the compound, such as hemp or carbon fiber.
Saxl Rose plays with a Fiberreed, of medium/hard strength, on his Signature alto mouthpiece.
Daro Behroozi prefers a hemp Fiberreed, of medium strength, on his Signature baritone mouthpiece.
D'Addario
D'Addario is a well-established company in the music world. Their reeds are renowned for their quality, and many musicians use them on their instruments. Made from cane sourced in France and manufactured in California, D'Addario reeds are some of the best natural reeds on the market.
Tivon Pennicott usually pairs his Signature mouthpiece with a D'Addario Select 3 Hard reed. These reeds, made particularly for jazz musicians, have a thicker core, allowing for a compact and dark sound, with powerful projection.
Dan Forshaw is also an adept of D'Addario reeds, and plays a 3M unfiled one on his tenor.
Rico
These reeds are made in the US from naturally-grown cane, and manufactured by D'Addario, an American company specializing in many different musical products. D'Addario is a well established brand of reeds, created in Italy in 1974. The company bought Rico in 2004, and has been manufacturing Rico reeds since then.
Mornington Lockett, a Syos Signature artist, uses Rico's La Voz hard reeds on his soprano mouthpiece. They allow him to get a lot of response when playing, as well as a deep and powerful sound.
Knoel Scott enjoys playing with Rico reeds, and chose to go with a Royal 3 on his baritone!
Légère
Légère is also a brand which manufactures synthetic reeds, and was created by Guy Légère and Mark Kortschot in 1998. The company uses polypropylene to make reeds, which goes through a specific process in order to give it the same physical properties as cane. Légère reeds are slightly thinner than their cane counterpart, which allows for freer vibration when playing them.
On his baritone, Scott Paddock plays a Légère Signature 2.5 reed. This reed gives him a bright sound, filled with overtones, with a lot of response.
James Evans enjoys playing with the B-Flat clarinet version of that same reed on his Syos mouthpiece.
Vandoren
With its 100-year history of manufacturing some of the best reeds on the market, Vandoren is a titan when it comes to woodwinds. A family affair, it was created by Eugene Van Doren in 1905, and is now directed by his grandson Bernard. Their Classic range of reeds is available for both saxophone and clarinet, and they are the most used in the professional world. They have an excellent response in all registers, are extremely flexible, and give a lot of body to the sound.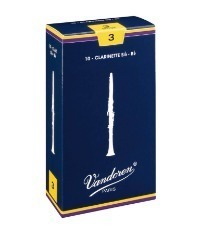 César Poirier, a French jazzman, prefers the Vandoren Classic 3 on his B-Flat clarinet. By choosing to go with this brand, César can be confident in the quality of their product!
Nick Brown chose a Vandoren rue Lepic 4 on his, allowing for a very pure, centered and rich sound. He pairs it with his Syos mouthpiece in order to get the sound he yearns for.
Fibracell
Fibracell is another brand which manufactures synthetic reeds. Made of a composite material, these reeds last up to six times longer than others made of natural cane. Like other synthetic reeds, they do not require soaking and are not affected by heat or humidity. Low maintenance, performing as expected, Fibracell is a good choice for any player looking for a durable reed.
Arrington de Dionyso is well known for his singular style on the bass clarinet, making it growl and pop as well as sing. He uses a Fibracell 2.5 reed on his Signature mouthpiece.
Boston Sax Shop
Boston Sax Shop was founded by Jack Finucane, who started out as a saxophone player. He took it upon himself to manufacture saxophone products with the player in mind, using his expertise as a musician to tailor his offer to the saxophonist's needs. In addition to manufacturing cane reeds, BSS also provide many other accessories. Regarding their reeds, they are presented as a hybrid between "classical" and "jazz" oriented reeds: they have a warm and dark tone, while maintaining high projection capabilities. Boston Sax Shop reeds are manufactured by Rigotti.
Michael Wilbur enjoys playing BSS reeds on his baritone, in order to get qualities from both jazz and classical reeds. Versatile and strong, a good choice!
Steve Kortyka made the same decision to add to his Signature tenor mouthpiece.
Rigotti
Founded in 1966, Rigotti, like Vandoren, is a family affair. Situated in Cogolin, along the French Riviera, the company was started by Franco Rigotti, who passed it onto his son Daniel in 2012. They specialise in reeds and other accessories for every type of woodwind instrument. Rigotti own the cane they manufacture their reeds from, contrary to many of their competitors.
Marca
Marca, also situated along the French Riviera, boasts a more than 60-year long history. Started in 1957 and managed ever since then by the Guccini family, the brand has established itself as a frontrunner when it comes to manufacturing quality reeds. Made from the best quality cane, their reeds have satisfied many a musician since they were first commercialised. A beautiful blend of expertise and craftsmanship.
For his tenor this time, Daro Behroozi chose Marca! He plays their Jazz 3 reed, going for strong projection and full control.