Today, let's shed light on the job that is the cornerstone of Syos: the Sound Shaper.
How does it work?
At Syos, we make each mouthpiece based on the musician's expectations. The Sound Shaper is the one who is translating what sound the musician is looking for in order to determine what mouthpiece internal geometry will allow the best result expected. The Sound Shaper is able, when listening to you describing the sound you like, to choose between thousands of parameters combination (baffle, chamber, tip opening) THE mouthpiece that will fit your demand.
Each demand being different, the sound shaper must:
Have a perfect knowledge of the different aspects of sound and vocabulary used by the musicians

Know everything about the saxophonist's equipment and its different parameters (existing mouthpieces, type and force of reeds, ligatures…)

Master the different elements of the geometry of a saxophone mouthpiece and their influence on the sound
How can we know all of this?
The understanding of the saxophone mouthpiece acoustics is essential to master the effects of the different parameters of the mouthpiece on the sound of the saxophone. That's the reason why Syos was founded by researchers in acoustic!
(Read the article: Warm, bright, focused, dark..? Psychoacoustics brings some light! )
But the whole theory aspect isn't enough, it's practice that allows the Sound Shaper to improve his knowledge of the mouthpiece. Nothing better than a session of experiences with a musician to talk with him about his sound, the different existing mouthpieces, his experience, his expectations… and to measure in practice the effects of different mouthpieces on the feelings of the musician.
It is also the work of the Sound Shaper to understand, thanks to the musician's feedback regarding the tests, how to modify the mouthpiece to make it even more adapted to the saxophonist. A real full-time job, and here is the description of it:
| | |
| --- | --- |
| 25% | Experimental session of mouthpieces testing and development |
| 25% | Determination of patterns of the link between sound and geometry based on experimental studies and results of simulations |
| 50% | Custom follow-up of daily orders (determination of mouthpiece geometry, exchanges between musicians, adjustments…) |
Who are the Sound Shapers at Syos?
We have 3 acoustic experts splitting up the Sound Shaping at Syos. If you ordered a custom mouthpiece, you necessarily know one of them!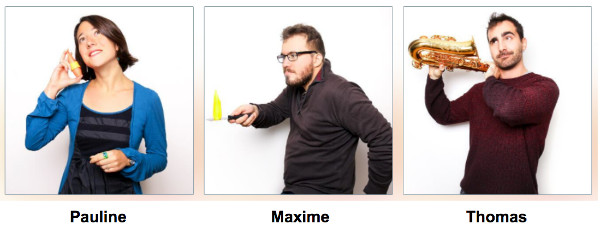 If not, it's time to do it: discover the unique experience of custom sound and have a personal support of our professional Sound Shapers in order to create step by step the mouthpiece that will allow you to express your own sound!
If you're not fan of the concept of sound shaping and custom mouthpieces, don't panic! Syos also makes standard series models, based on mouthpieces that were customized for Syos artists and are signed by them. Take a look:
See the other jobs at Syos:
Syos jobs: the 3D designer
Syos jobs: the simulation engineer
Syos jobs: production manager (coming soon)