Take a class with a Syos artist!
Some of our great artists are giving online lessons, choose the one you prefer working with and book a lesson :)
Pour les cours en français passez sur la page française.
---
Lorenzo Ferrero
Lorenzo teaches a very organized method based on understanding and applying contemporary harmony to improvisation and composition with a simple and effective approach, which demystifies the principles of Jazz vocabulary so that the student can easily create great phrases and expand their vocabulary while training their ears and fingers to become much more fluent.
His mais topics are:
Improvisation
Composition and arranging
Contemporary harmony
Big Band Arranging course
Saxophone technique and harmonic ear training.
Price: $60 for a single lesson, $220 for the 4 lesson package, and $440 for the 8 lesson package.
All his lessons include a lot of materials, which he will send directly to the student. This includes solos, exercises, extracts of my online e-books, recordings and play alongs.
---
Steve Kortyka
His main topics are:
Chord and Chord Progression Isolation Study
Pentatonic/Hexatonic Vocabulary
Different Approaches to Rhythm and Odd Time Signature Study
Acheiving a Good Time Feel
Diatonic Exercises and Diatonic Transposition Over Chord Progressions
Modern, Bebop and Old School Playing
"I have been performing as a professional musician for over 20 years now, so I have been working on how to make that feel and look as natural as possible. Students of mine find the joy of discovery that exists within Improvisation and always given a clear idea on how they can improve and find fun ways to approach creating music."
Price: $25 USD for a half hour and $45 USD for a full hour
---
Elijah Jamal Balbed
His main topics are:
General Improvisation
Jazz Theory
Saxophone Sound / Technique
Jazz Voicings & Harmony on Piano
Building Walking Lines on Bass
Social Marketing / Self-Promotion
Building a Home Studio
Price: 60$ for an hour. There is a 50% discount for the first lesson (or pay what you can).
---
Tomoaki Baba
His main topics are:
Exercises to make your sound better. (For saxophone )
How to train your rhythmic abilities
Practice routines, etc....
Price: 50$ for an hour.
---
Michael Wilbur
His main topics are:
Music theory
Improvisation
Building unique musical vocabulary
Saxophone technique, tone production, breath work and overall musicianship.
Price: $80 for one hour lesson, $120 for two separate hour lessons, $45 for 30 minutes, and $55 for 45 minutes.
---
Eddie Rich
His main topics are:
Saxophone
Improvisation
Woodwind Doubling (flute and clarinet).
Price: $40 for 1 hour or $20 for 30 minutes.
---
Jason Moore
His main topics are:
Tone Production
Improvisation
Rhythm and Ear training studies
How to utilize time in the practice room.
Price: $50 for one hour, 30 minute initial consultation is free.
---
Zem Audu
His main topics are:
Saxophone technique
Music theory
Improvisation
Developing your own vocabulary
Price: $25 USD for a half hour and $45 USD for a full hour
---
Yuval Cohen
His main topics are:
Sound and technique concepts
Improvisation
Jazz harmony
Price: 70$ for an hour
---
Ofer Assaf
Ofer teaches all ages and all levels. He has Experience in the following styles- Jazz, Funk, Jazz Rock, Fusion, Latin Jazz, Brazilian Jazz, Indian music, African Music & Middle Eastern Music.
His main topics:
Sight-reading
Rhythm
Theory
Harmony
Improvisation
Ear-training & mindset improvement
Price: $75 an hour or $50 for half an hour. But flexible for multiple lesson packages.
---
Gina Sobel
Gina really likes to tailor her teaching to her student's interests. She is passionate about finding the right direction for each individual student, and she loves teaching through songs, especially if they are songs that students bring to the table. She is fun and relaxed but serious about practicing and working towards goals that you will set together based on the needs and wishes of each individual student.
Her main topics:
Saxophone
Flute
Voice
Improvising/jazz studies
Composition/songwriting
Price: $30 for half hour, $40 for 45 min, $55 for an hour
---
Yuri Krasilnikov
Yuri teaches classical and jazz saxophone at the conservatory and gives online classes.
Price: 15€ per hour
---
Gus Leighton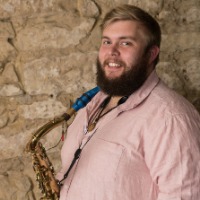 Gus takes students from beginner-advanced and his lessons stress the importance of a strong technical and theoretical foundation while exploring the music his students are most interested in.
His main topics are:
Contemporary Saxophone
Improvisation
Music Theory
Price: $30 AUD for a 30-minute lesson and $50 AUD for an hour lesson
---
Anton Delecca
Anton has been tutoring woodwinds and conducting bands at schools and universities for almost thirty years. He covers all aspects of playing in his lessons from fundamentals of technique through to learning jazz standards and improvisation. He treats every student individually and tailors a learning program for each student rather than giving them a program of predetermined material.

He has studied Alexander Technique and brings these methods into his own playing and lessons. He is a daily mediation practitioner and is particularly interested in the spiritual and psychological aspects of music and recently has been adopting methods practised by piano master Kenny Werner.

Price: Half-hour free initial consultation, USD $50 per hour, $30 half-hour, Four lesson package: $180
---
Kyle Tefft
Kyle teaches saxophone with a focus on improvisation and jazz theory education. He also teaches beginning flute. His lessons are to tailored to each students individual needs and desires.
Price: $30 for 1/2 hour and $45/hr.
---
Matthew Allen Locker
His main topics are:
Developing your personal sound
Saxophone technique
How to create your own sonic and technical exercises
Improvisation in multiple settings
Theory and Harmony
Developing the "Minds ear"
Pacing and developing solid time
Extrapolating personal vocabulary from transcriptions
All of his online lessons include personalized and handwritten exercises catered to the needs of the individual student that are based on what will be explored in each lesson.
Price: $50/hour, 4 lessons paid up front - $180 ($5 off/ lesson), 8 lessons paid up front - $350 (extra $10 off), 16 lessons paid up front - $700 (extra $20 off). All in US dollars through PayPal or Venmo and he is offering 30% off lessons during COVID-19.
---
Andrew Cox
As a professional saxophonist Andrew has toured the world as a session player with bands - Postmodern Jukebox and Shed Seven - as well as with my own projects - Renegade Brass Band, Little Violet, Back Chat Brass.
He is teaching Saxophone, Clarinet and Music/Jazz theory on different genres: Specialising in jazz/pop or Classical.
First lesson: In your first lesson he will aim to get a good idea of where you are at with your musical development and which areas will be best to begin focussing on. He likes to get to know the musical tastes of his students so you can focus together on working towards the type of musician that the student wants to be.
Lessons: Students can expect look at a range of subjects dependant on their proficiency level:
Active listening
Repertoire that builds to the student's aims and musical ambitions
Working on sound
Rhythmic exercises
Scale exercises
Transcription
Harmony
Beginners: The first lesson will be focussing on getting to know the instrument, putting it together and finding that first sound! From then on, an introduction into the first few notes on the instrument so you can get playing right away.
Price: Andrew is offering a discounted rated on lessons for the next 6 months at €35 per hour (Normally €40ph)
---
Byron Asher
Byron teaches clarinet and saxophone at all levels. His main topics are:
Creative approaches to improvisation
Finding your personal voice/sound production
Composition
Music theory
Ear training
Jazz history, in particular early jazz in political/cultural context
New Orleans clarinet.
Price: Byron's rates are negotiable, but start at $50 USD a lesson.
---
Dan Forshaw
Dan teaches everything from beginners to the advanced harmonic concepts of Coltrane. He is the first study saxophone tutor for Cambridge University. He has been teaching via Skype for ten years now and he is currently offering both one to one and WhatsApp tuition.
Price: £24.95 per month